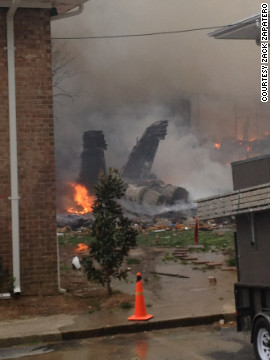 Yesterday was one of the weirdest days of my life.
Navy Jets are a part of my life. I hear and see them flying once or twice a week, if not every day. Yesterday was almost like something out of a movie, especially after driving down the road adjacent to these apartments only a few moments before the Hornet crashed. I can only say that no casualties, the contained damage, and the survival of both pilots amount to a true Good Friday miracle. I am so thankful to all of our first responders who work everyday to keep our cities, states, and country safe.
Even weirder? Seeing your city on the front page of CNN, The Wall Street Journal, Fox News, BBC, and even mentioned on the BBC World News in a Minute. Not too bad for a
so-called
"

faded seaside resort 200 miles south of Washington".
Needless to say, the next few weeks will be very interesting!

Royar
{The Young Southern Prep}